About Us
If you're looking for a quality antique vintage stove for your kitchen, then look no further! We offer top-notch restoration, with unique and customized style. Whether you have a space now, or are planning to remodel your kitchen around a stylish vintage stove, we will make sure it's truly the 'jewel' of the kitchen.
Since the early to mid 1900's the American life-style requires a 'quality cook stove' that can perform and hold up to a lifetime of demanding wholesome meals.
Competition inspired companies like O'Keefe & Merritt, Wedgewood, Western Holly, just to name a few, produced quality stoves that were not only beautiful in design but a real pleasure to use.
Our Belief
We believe these super-quality stylish antique vintage stoves are deserving of proper restoration. So we specialize in a complete restoration process with strict guidelines for proper restoration steps, from mechanical functions to the cosmetics that make our stoves unparalleled in quality and appeal!
We also use unique restoration concepts that compliment the 'flare' in your kitchen. Custom porcelain colors, along with handles and knobs, will turn these stoves into a personalized masterpiece within your design.
We carry vintage and antique stoves from the 20's through the 50's stove era. Yes, we can make your old antique vintage stove like a new Dream stove again too!
If you have been looking for that 'just right vintage stove', we just might have what you're looking for! If you desire ANY style, brand, or antique stove size, be sure to e-mail me at: christianmaupin@Gmail.com. We have access to all the best stoves here on the west coast!
So thank you for stopping by, and visit us again soon.
Sincerely,
Christian Maupin
(Your - Professional Restoration Specialist)
We are located about 1 hour east from Sacramento Ca, and 2 hrs east from the San Francisco Ca bay area, within the historical gold rush area of Calaveras County. We often pick up and deliver to customers
within these areas as well.
We possess all mandatory legal licenses for doing business in this field (California Beau of Electronic Repair-BEAR license, California resale license, County business license), and we are fully insured for
liability coverage. We are also accredited A+ members of the Nor-Cal BBB!
We are called upon, and have provided stoves for famous celebrities, movie production companies, and many large corporations. However, we will give anyone the same level of service and quality no matter who you are! Our satisfaction is your satisfaction!
Request a Quote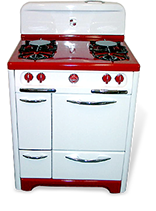 Like us on Facebook!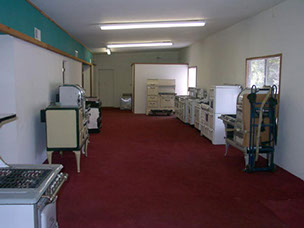 Stop on in and pay us a visit!